This month is proving to be as busy and fleeting as I expected.  I can't believe that September is almost gone!  We're now officially into autumn, my favorite season.  My eyes are glued on the foliage – half hoping to see colorful changes in their leaves and half hoping not too so that the season doesn't go too quickly.  I love long, long autumns.  Though the month has passed in a whirlwind, I still had some time to create jewelry for the Art Bead Scene blog.  I was expecting perhaps an autumnal themed painting, but instead we had a bright and lighthearted celebration of insects!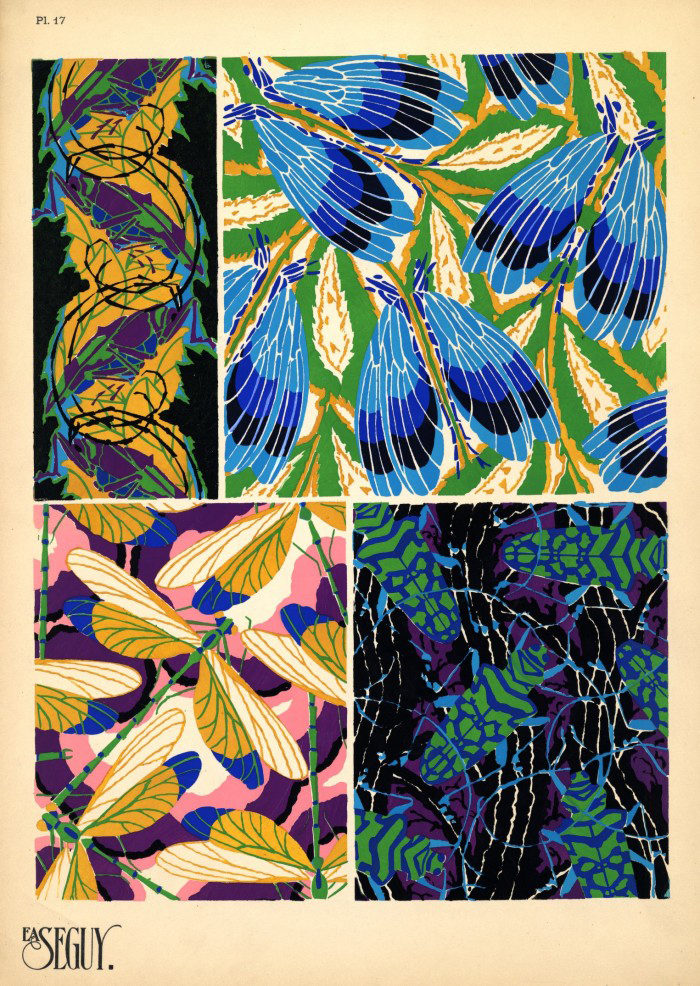 Eugene Seguy painted this piece in 1920.   It is a delightfully fun piece full of lively color, pattern, and interest.  It reminds me of collages of fabric swatches.  And it is a fitting tribute to the myriad of insects which will soon be saying their goodbyes till next year.  Cicadas, dragonflies, butterflies, moths, bees, beetles, wasps,  all are busy and full of life during September.  In a last frill of gossamer wings and buzzes, our little insect friends that kept us company all summer long will soon be silent.  This wonderful painting represents the insects in all their color and activity.
I knew exactly what beads I wanted to use to honor our summer insects.  I had a set of matching chrysalis and beads that would be perfect.  Not long ago Heather Powers, of Humblebeads, started Bead Table Wednesdays to share her ideas for jewelry creation.  I've loved watching those and the necklace is inspired by the wire wreath with dangles.
The chrysalis bead takes the center of attention, with other complementary dangles within a woodland wire frame.  Cascading flowers, a Czech bead with bead caps, and the word "thrive" pull together the color scheme.  A tiny butterfly perched on the wire nest adds interest.  I debated on what word I wanted to pair with this piece and finally settled on "thrive".  It seemed a fitting tribute for insects.  In our view of time, insects have such a short life span, often just a few weeks, but what all that insect manages to pack into its lifespan is incredible.  They enrich the earth, change their landscape, provide for the next generation, and fill the earth and air with wings and flashes of color.  They're a reminder that it's not the length of days that determines the scope and quality of our lives.
Earrings are formed from the matching Humblebeads  disc beads – I love that pattern of  wing scales. Bead caps and aqua Czech glass complement the polymer clay beads.  And delicate brass butterflies flutter underneath.
I loved making this set to pay homage to the little creatures that brought us joy this summer.
Blessings to you,
Sarah