And here we are at the ending of another month.  Though it was late, Spring was rather fleeting ( a week or two) and we suddenly found ourselves in summer this month.  May was filled with a flurry of flower petals and has now faded to a soothing green.  This month's painting for our Art Bead challenge was "Primavera" by Sandro Botticelli, 1478.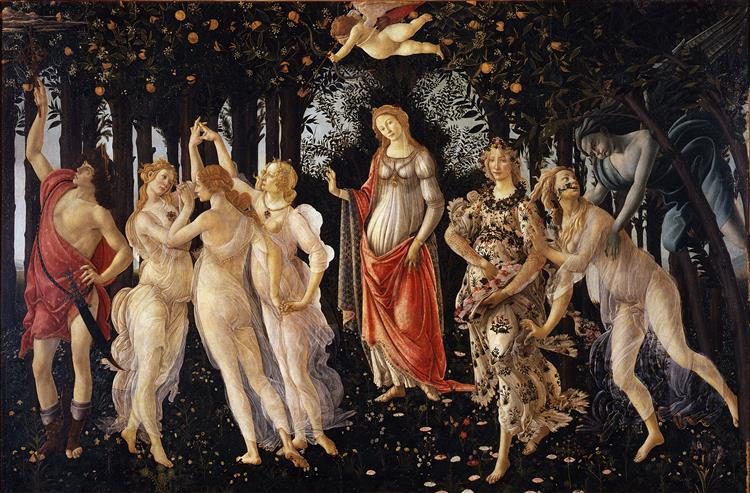 This is my favorite of Botticelli's paintings.  I first was introduced to it via an art series called "Every Picture Tells a Story."  The host, Waldemar Januszczak, uses well-known paintings to illuminate the culture, history, and meanings behind these magnificent works of art.  In the episode about "Birth of Venus", he brings us to this painting to describe the style and some of the mythology that plays into Venus and Primavera.  I instantly fell in love with this painting.  From that show I learned that Botticelli trained as a goldsmith and would incorporate gold leafing into his artwork.  His name, Boticelli, was a nickname which means "little barrel".  He was the youngest of several children and apparently never in good health.  His older robust brother was nicknamed "Botticello" – or large barrel because of his physique and Boticelli was so named because he was the scrawny little brother.  (It's details like this that make watching the series a delight), especially when it focuses on medieval art.  Ever since I saw Sleeping Beauty as a little girl, it kindled a love of medieval art, especially of forest art, that continues strong to this day.  This painting is filled with features that make me ecstatic – starting with that magnificent dark forest in the background.  Oh how I love the way those trees arch and frame the scene!  The pop of color with the fruit in the tree canopy and the flowers upon the dark forest floor are vibrant and entrancing.  The dark background makes the characters in the foreground luminescent.  Medieval artists were exquisitely able to manipulate light in their works in ways that take my breath away. The fabrics are incredible and the detail throughout the painting is extraordinary.  It has served as source of inspiration and beauty for centuries.
This painting encapsulates all the beauty and mystery and enchantment that exemplifies medieval art.  Rich and opulent, it fills all the senses as you're drawn into the scene.  These were the key words that I focused on as I planned my jewelry for this month.  I wanted to capture Boticelli's love for gold in my necklace.  One of the jewelry techniques I've dabbled in during my own journey of metalsmithing is electroplating.  I have several pieces I've created using found organic materials and I used one of them as the focal point in this necklace.  It's a seed pod with a delicate floral shape that's been plated with copper and patinated with liver of sulfur for a rich, illuminated feel.  If I remember correctly, the seed pod was foraged from one of my forest walks, so it was a perfect fit with the painting.  The rest of the necklace formed by happy happenstance.
I had the electroplated seed pod out on the table, and while I was waiting for inspiration to hit, I received a bead kit from Humblebeads with a bead soup, linen cord, and a button charm to make a wrap bracelet.  The two ended up together on my table and then it hit…. use the bead soup to make a long necklace instead of a bracelet.  I supplemented the beads in the kit with many of my own so I'd have enough to make a long enough necklace to wrap around my neck twice.  I don't have many long necklaces like this and since it was a popular style in the medieval/renaissance period, it would match stylistically with the painting.  The bead soup was various colors of green and purple and I added in more beads in those colors, some darker ones to give it depth, some floral Humblebeads disc beads, some metallic beads for luster, and some additional leaf beads to add to the forest imagery.  I wanted it to look like something from the forest floor of the painting.  The button is a faux tin piece from Humblebeads featuring a tiny owl.  This was the perfect touch – it fit the color scheme and it's a subtle nod again to Sleeping Beauty's forest (the owl is one of my favorite characters)
The necklace is designed so that when wrapped around, the owl button will be in the center of the higher strand and the electroplated seed pod will hang from the lower strand.  I had so much fun creating the bead soup and knotting the linen on this project.  I've not made bead soup before but it came out splendidly.  And I love the supple drape of the linen.  I'll be making more necklaces on linen for sure.  Plus, the linen is a subtle purple shade which complements the beads beautifully.
For the earrings, I wanted to create something equally lush and opulent.  I had two antique copper leaves that I paired with dark green/blue Humblebeads disc beads and jazzed them up with bead caps, copper spacers, and faceted green gemstones.  To add additional romance to them, I draped tiny chain behind the leaves and dangled tiny beads from my bead soup mix.  The result is perfectly medieval.
I'm so pleased with this set and how well it captures the emotions and colors that remind me of "Primavera".  And I have enough of the bead soup left to make a matching wrap bracelet!  I hope you enjoyed the jewelry and design process for May.  Have a wonderful, creative week.
Blessings to you,
Sarah