It's coming along fall in my neck of the woods now – my favorite season.  The weather has cooled down to the 60s-70s and it's glorious.  Trees are showing glowing patches of color at random intervals in the landscape.  I have mixed feelings about tree color this early in fall.  Part of me is giddy that fall is coming and the other part doesn't want it coming too soon.  Fall is to be savored and adored for all that it offers.  I love fall so much.  Each year it feels like I come alive at autumnal equinox.  This year the official start of fall just slipped by without me hardly taking notice.  There's been a lot going on and I'm so exhausted that I've just been in survival mode.  This makes me upset with myself because there's so much of the world to enjoy and appreciate, especially at autumn, and I want to be wide open and receptive to all the ordinary miracles that surround us.  In a daily devotional I read "our days are full of wonders".  This is a true and beautiful statement and one I feel I've rather lost sight of.  I've been trying to move back to this attitude of delight by spending some time each evening on creative work (rather than staring in a daze at the wall until time for bed).  I've been working on several knitting projects, going to the clay studio, developing some top-secret projects, and designing jewelry for the September Art Bead Scene challenge.. and of course day-dreaming of future projects.
Here's the artwork for our month: "The Actress as Cleopatra" by Arthur Beecher Charles, painted 1914.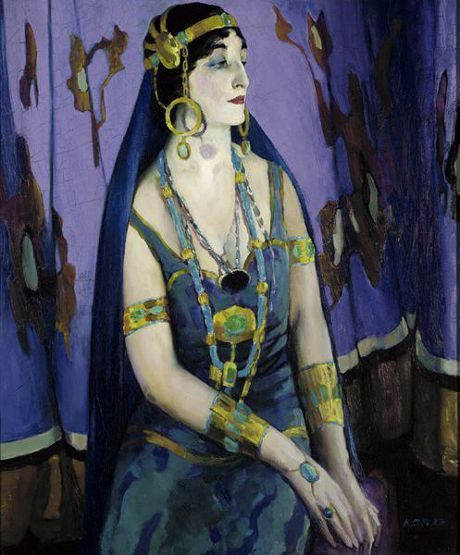 We weren't given any background about the artwork or the painter, so I had to consult "The Great Wikipedia".  In response to my query, Wiki informed me that Charles was an American modernist painter.  Born in Pennsylvania, he studied fine art in the early 1900s, then predictably moved to France to further his craft and befriend other famous painters.  And he also predictably painted nudes in bright colors.  An art historian praises him as "one of the most brilliant colorists in the history of American art"
The colors were what drew me in to this piece.  I loved the use of watery blues, purples, and turquoise that saturate this portrait.  I also appreciated the Art Deco style.  What I created is inspired by the color palette with highlights of antique brass.
The starting point for the necklace was the fabulous pendant by Grubbi Ceramics.  I'd been fretting about what to design, since the subject matter is not my style.  Then I remembered this pendant and decided to focus on the colors and just let the style go.  I ended up with a nature-inspired theme (shocker!) that I call "Garden at Twilight" that is full of dark blues, purples, shadowy florals, and pops of turquoise and brass.  The ornate bead caps and brass ring inject just a hint of Art Deco to the piece.  I just love the way the colors move and transition through the necklace.  The necklace is comprised of ceramic beads, shell discs,  purple Czech glass flowers, and stone rondelles.  The blue stones are mottled with brown streaks – they are a bead store find and I don't know the name of the stone, but it's practically luminescent.
The earrings are assembled with the same blue stones, polymer clay beads by Humblebeads, and more cut glass flowers.  The flowers have a turquoise patina in the centers which brightens them and ties in with the other materials in the jewelry design.
The design, bead selection, and layout took a long time to put together as I struggled to find the right balance of elements from the portrait that would be translatable into my style.  Oftentimes I get frustrated because jewelry designs don't drip from my fingers within minutes.  Most of the time it involves pulling out beads and looking at them together over a period of days, changing out items, and rearranging them until I think the design works.  But the waiting is part of the creative process and I do need to remember to think of it that way.  This one was worth the extra time it took for the design to come to fruition.  As the nights creep in ever earlier and cast shadows on the fading gardens of fall, I'll embrace the changing of seasons and continually work to translate the beauty of nature into my creations.
Blessings to you,
Sarah