After a long hiatus, the Art Bead Scene blog is back with their monthly challenges!  Except now they're not monthly challenges, but six week challenges so that we have more time to create – these are now called art journeys.  And we have multiple images that create a theme for each "Art Journey" instead of just one.  So lots of positive, exciting changes in the works here.  And I maybe went a little overboard with this first challenge of the year.  You'll see why because this is the first photo we had as our inspiration.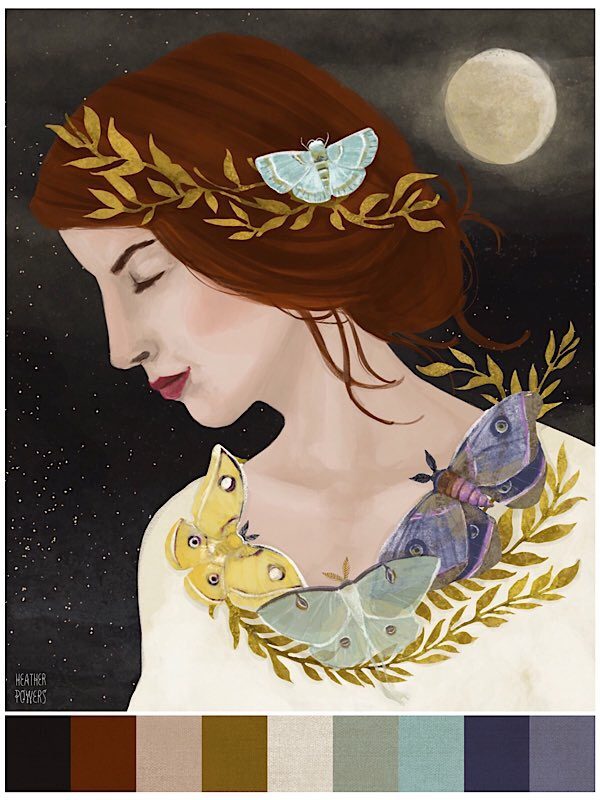 Is that not one of the most beautiful things you've ever seen?  It is a lovely sketch by Heather Powers and I'm fortunate enough to have a copy of this print and I could spend hours gazing at it.  Moths are an ethereal creature – they are nocturnal but always drawn to light.  Of course, there are many diurnal species of moth – my own favorite moth happens to be the hummingbird moth who usually comes to visit my blooming annuals late in summer.  But there's something about those translucent-winged, feathery-antenna insects flying towards the moon, wrapped in its light, that captures our imagination.
My journey with the moths began innocently enough.  I was making a pair of earrings for another challenge and had made a component for a matching necklace – it was a hammered copper ring with peach beads.  Nearby I had out a moth pendant from a recent order from Artisticaos.  The moth jumped at the copper ring and insisted loudly that it have a place in the necklace I was working on.  I tried to incorporate said moth into the design I already had in mind and what resulted was a multi-day fight with the moth and necklace until I finally gave up and let the moth have her way.  What resulted is "Flickers of Pale Wings"
The moth is hand painted on a ceramic pendant and clear glazed.  She rests beneath the copper ring that started the design.  In the end I discarded the other elements I was originally planning on using and instead used some ceramic beads that came as a set with the moth and a czech glass bead.  These were knotted onto faux leather cord and I used adjustable knots to finish off the necklace.
Here are the earrings that started this set – they aren't moth-themed, but I am pleased with them nonetheless.  The leaves are polymer clay beads from Humblebeads and also feature enameled bead caps by Gardanne Beads.
Feeling excited by the moth theme, I quickly mocked up another two designs.  "Shedding Light" features another moth pendant by Artisticaos.
Her painted moths are so delicate.  For this necklace I again wanted to keep it simple so the focus would be on the stunning ceramics.  I cut a piece of embossed brass to top off the pendant and added the two matching ceramic beads to a large jump ring.  The necklace is finished off with knotted leather lace.
Now late last fall, Heather Powers of Humblebeads had designed some faux tin pieces with a vintage death's-head hawk moth illustration.  It's a breathtaking navy blue and yellow moth against a delicate pen inked botanical background.  I'd been thinking about a necklace design for it and this was a perfect opportunity to use it.
This is "Nightwing".  These moths are fascinating and I read a bit about them while working on this challenge.  There are three species – Acheron styx gets its name from the river that borders Hades.  A. lachesis is named for the fate who measures the thread of life and A. atropos for the fate who cuts the thread of life.  Apparently these moths were not viewed favorably by those who named them.  But I think the most interesting (and perhaps endearing) characteristic of these moths is that they squeak.  And it also has a taste for honey, as the moths are known to raid the hives of bees and drink their fill.  They aren't disturbed because they produce an odor similar to bees and are essentially overlooked by the bees when they come to call.
I cut etched copper into geometric shapes to fill out the faux tin pendant.  Then I strung dark blue gemstone chips with silver spacers to highlight the colors in the moth and finished off the necklace with black leather lace.  The earrings are made with polymer disc beads by Heather – these feature a delicate moth wing pattern.  They're finished off with a simple loop of leather lace and decorated with twisted jump rings and metallic bead spacers.

At this point I figured I was done, but turns out I had not plumbed the depths of moth-obsession yet.  To my delight, I received my other order from Heather in time to use.  Heather had created some faux tin pieces of her lovely moth illustration.  I ordered them the second she posted them on her website.  It's hard for me to have favorites of her work but I think these are some of the most beautiful pieces she's made.  I just had to make some jewelry with them for this challenge.
For this necklace, I pulled out the hues of the complex blue/purple tones in the moth's wings by using fluorite rough-cut rondelles.  I used thin black leather lace for the rest of the necklace and wrapped the ends with brass wire.  I had a lovely leafy toggle clasp that matched the foliage on the pendant perfectly.  I call this necklace "Luminosity"
I love the way the gemstones seem to hold their own light and it seems a fitting material to use in homage to the light-loving moths.  The earring charms were cut in a shield shape.  I added a few fluorite gemstones connected with a length of fine chain to these and topped them off with a tiny rondelle.
My last jewelry set is named "Alight" and the star is the fabulous and iconic luna moth.  I wanted to create something that felt like moonlight.  I strung the pendant with two  lengths of fine chain through an agate stone which reminded me of the moon.  It's mottled in subtle shades of gray, lavender, and creamy yellow.   I added in some pale aqua agate beads to chain for the length of the necklace.
The earrings pull in the same elements from the necklace and I just love the illustration on these charms.  The moths glow in the moonlight and shimmer with stardust, just like a perfect fairytale.
If you've stuck with me this long, thank you.  This is a rather longer post than usual but I can almost absolutely promise you I will not create five necklaces and four earrings for any future challenge.   I was energized and inspired by using Heather's lovely illustration and by exploring the world of moths – two wings suspended by the moon.
Blessings to you,
Sarah