"Once upon a time…"  – are there any words that are more exciting?  Just hearing that phrase makes me tingle with excitement knowing that a story full of adventure, trials, travels, magic spells, and happy endings is sure to come.  (Along with fencing, fighting,  true love, and revenge – as we're told in Princess Bride).  Well, I was delighted that our theme for Art Bead Scene was the fairy tale illustrations of Virginia Frances Sterrett.  This was a new artist to me.  Virginia was born in 1900 in Chicago.  She showed a proclivity towards drawing even as a young girl and won her first commission at age 19 for illustrating Old French Fairy Tales.  She created 8 watercolors, 16 pen and ink drawings, and the covered illustration.  She only completed two other commissions for book illustrations before her untimely death from tuberculosis at age 30.  Her work is delicate yet full of bold color, with a wistful feel to it.  Here are the three images that guided our Art Journey with this fabulous artist.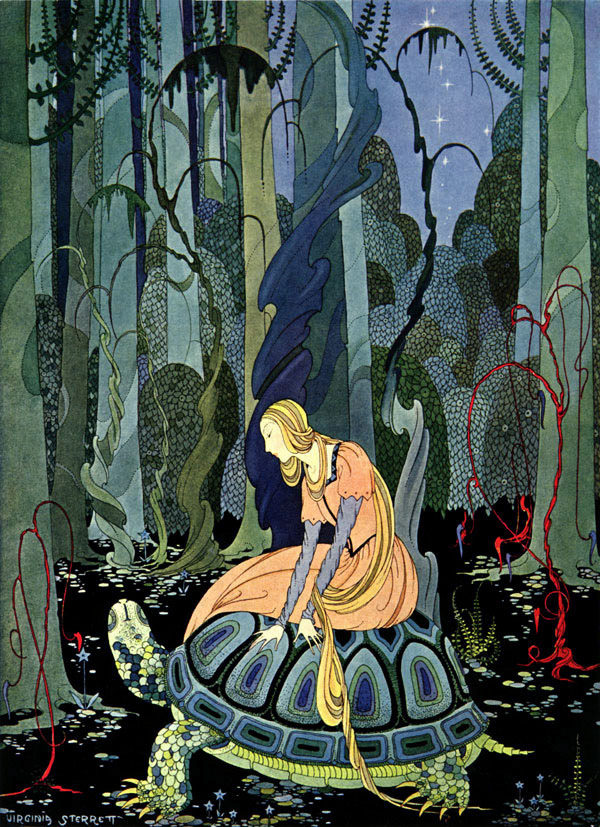 Blondine and the Tortoise
From Old French Fairy Tales (1919-1920) illustrated by Virginia Frances Sterrett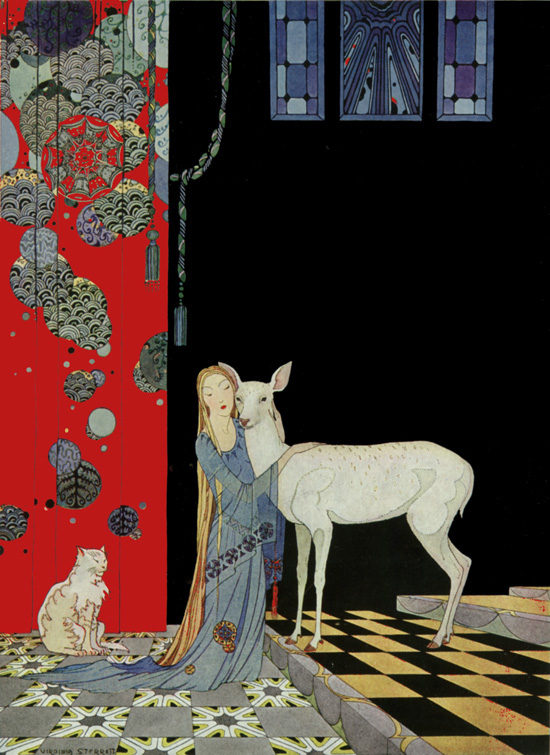 Blondine Threw Her Arms Around Him
From Old French Fairy Tales (1919-1920) illustrated by Virginia Frances Sterrett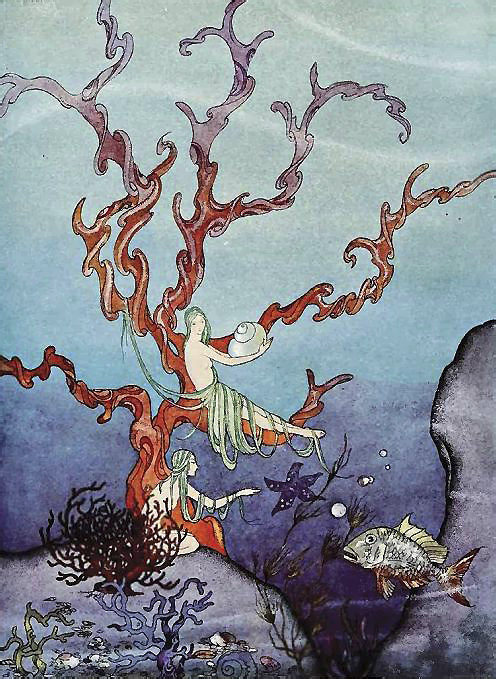 Proserpina and the Sea Nymphs
From Tanglewood Tales (1921) illustrated by Virginia Frances Sterrett
One of the blog's editors provided us with the complete text of the fairytales, which can be read here, if you are interested.  Basically, Blondine (our heroine) loses her friends in a tragic manner and meets a tortoise in the woods who tells her that she can find out the fate of her friends if she climbs on the tortoise's back and remains there without asking a question for 6 months as they travel to the castle of a fairy queen.  There Blondine's character is tested and she breaks a spell over the forest and is reunited with her friends and enjoys a happy ending.  This reminded me of one of my favorite fairytales, The Three Ravens.  (It also goes by The Seven Swans or The Princess who Spun Nettles ).  In this story several brothers are transformed into birds (ravens or swans depending on the telling) by an evil witch.  Their sister is helped by a fox who tells her she must remain silent for the time it takes her to spin yarn and make sweaters for each of her brothers.  In both stories the heroine loses people close to her and must trust in the goodness and guidance of an animal they meet in the forest.  They must remain quiet and not question their companion and their commitment to finding and freeing their loved ones is tested.  But in both stories, the heroine breaks the curse, wins a handsome prince, and is restored to her family and friends.  The essence of these stories inspired my first two sets of jewelry.
Here is "Forest Fox".  I just loved this wood bead with painted fox by Summer Wind.  Doesn't he cut a handsome profile?  I've been admiring him and wanting to create a necklace for quite a while, and this was the time.  I knotted the pendant on brown leather cording and paired it with mottled orange stone beads, wood rounds, and cream spacers.  This also gave me practice with making knotted necklaces and adjustable knot closures.  I added on an acorn and leaf charm to enhance the woodland feel.  And here are the matching earrings.
Next is the companion set "Forest Raven".
The pendant is also by SummerWind.  For this piece I paired the pendant with crackle glazes black and white beads and smaller blue/grey beads that matched the raven's eye and head feathers.  This is strung on black leather cord, also with adjustable knot closure.  I wire wrapped some grey Czech glass leaves to the pendant.   And earrings:
Inspiration for the third set of jewelry came when I was pulling out some stones I bought last time I was in Texas from a bead store.  They had great prices on stone pendants and matching earring charms and I bought several sets.  One in particular was a very unusual stone and it looked just like the forest floor of "Blondine and Tortoise".
"Forest Floor" was created by wire wrapping the stone and adding a floral lentil bead created by Humblebeads for the focal point.  I strung the necklace with green kyanite stone chips, green agate beads, and aqua Czech glass flowers.  I'm really exited by this piece as it captures the colors and textures of the forest floor and the Art Nouveau style of the illustration.
Isn't that stone amazing?  It looks like cherry blossom tree – only in green.  I wish I remembered the name of this unique stone.  At this point I was quite satisfied with my explorations into the fairytales of Virginia Sterrett.  I had created two sets that reminded me of the story and one that was a more literal interpretation of the forest illustration.
But then I started to feel guilty for neglecting the other scenes we had for inspiration…. and I had this ceramic seashell set that was just perfect.  I had in mind what I wanted to make with the seashells with some beads I thought matched just right.  For about two days the seashells and I fought with each other as they steadfastly refused to work with any beads or layout I gave them.  Finally I stopped and listened to the beads and we all got along much better.
I'd like to call this one "The Selfish Shells" because they absolutely refused to share the limelight with any other beads.  But really, can you blame them?  They are perfect just on their own and were made by the talented Terri of Artisticaos.  Don't they look just like real shells?  They were wire-wrapped in a stack and strung onto doubled brown leather cording.  I threaded on some brass spacers and created knotted loops to add a bit of interest to the body of the necklace, but it's pretty simple to not detract from the shells.  And so that was my journey to the ocean world of Proserpina and the sea nymphs.
I hope you enjoyed my ramblings through the forest and sea on this art journey inspired by the illustrations of Virginia Sterrett.  Art Journey #3 is already underway and I've got some ideas percolating.  See you soon!
Blessings to you,
Sarah