Today was the end of the Art Bead Challenge #5 and I was preparing to blog about it  when I remembered that I never blogged about Challenge #4!  That ended right as I was getting ready to travel and I was off on adventures and busy with work, then on to new challenges, and traveling again… and you get the picture.  So we'll take a brief step back to enjoy Art Journey #4 because it was lovely.  During last rotation, we had "the Dreamy World of Odilon Redon" as our inspiration.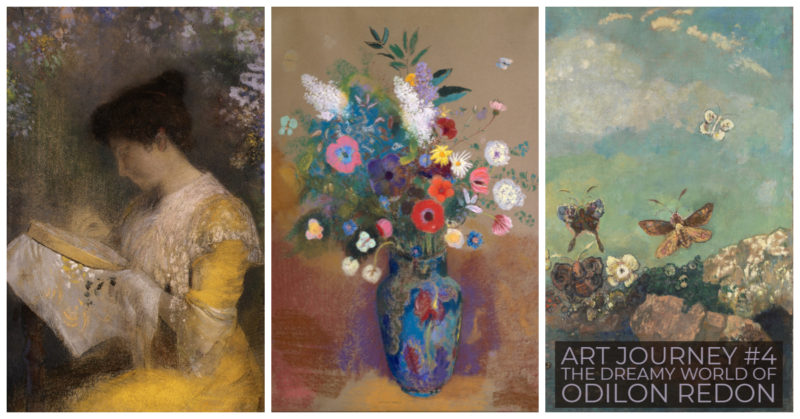 Odilon was a Symbolist painter and one of the most important of the movement, which emphasized feeling, emotion, and ideas in their artwork.  Odilon himself was deeply inspired by his dreams and imagination – including the beautiful, surreal, and the sinister.  We were fortunate in this challenge to have picturesque images for our inspiration point.  From left to right:  Madame Arthur Fontaine (1901), Bouquet of Flowers (1900-1905), and Butterflies (1910).  The soft textures of the pastels, the color palettes, and subject matter were a delight to study and create from.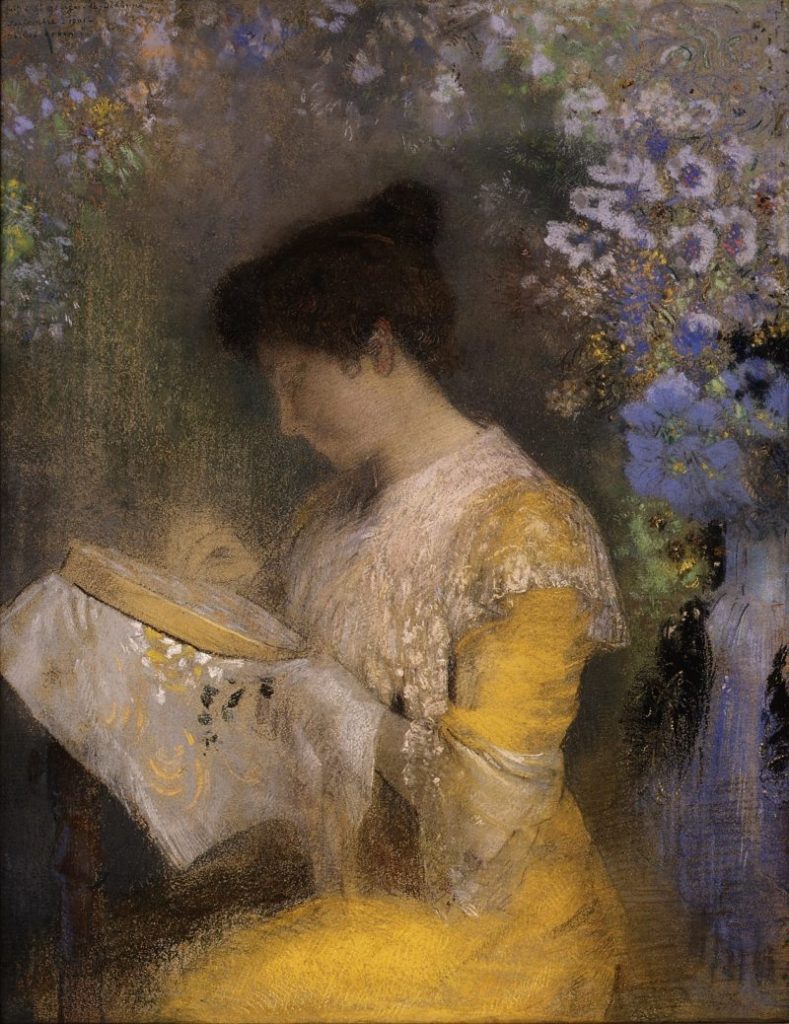 The human heart has hidden treasures, In secret kept, in silence sealed; The thoughts, the hopes, the dreams, the pleasures, Whose charms were broken if revealed.  – Charlotte Bronte
I found the soothing, soft colors of yellow and blue most appealing and was mesmerized by how they blended into each other and into the charcoal background.  The flowers both on the background and in the needlepoint are frothy and subdued.  For my necklace, I chose to mimic the color palette with a beautiful clay bird from Humblebeads and ceramic pendant from Grubbi Ceramics.
I added a few flower charms to the pendant, which reads "In the end we only regret the chances we didn't take".  The quote seemed applicable to following your dreams and making them come true and I also liked how the little flowers framing the quote echoed back to the painting.  Czech beads and brass spacers fill in the chain.
Earrings match with similar floral charms and more Czech beads.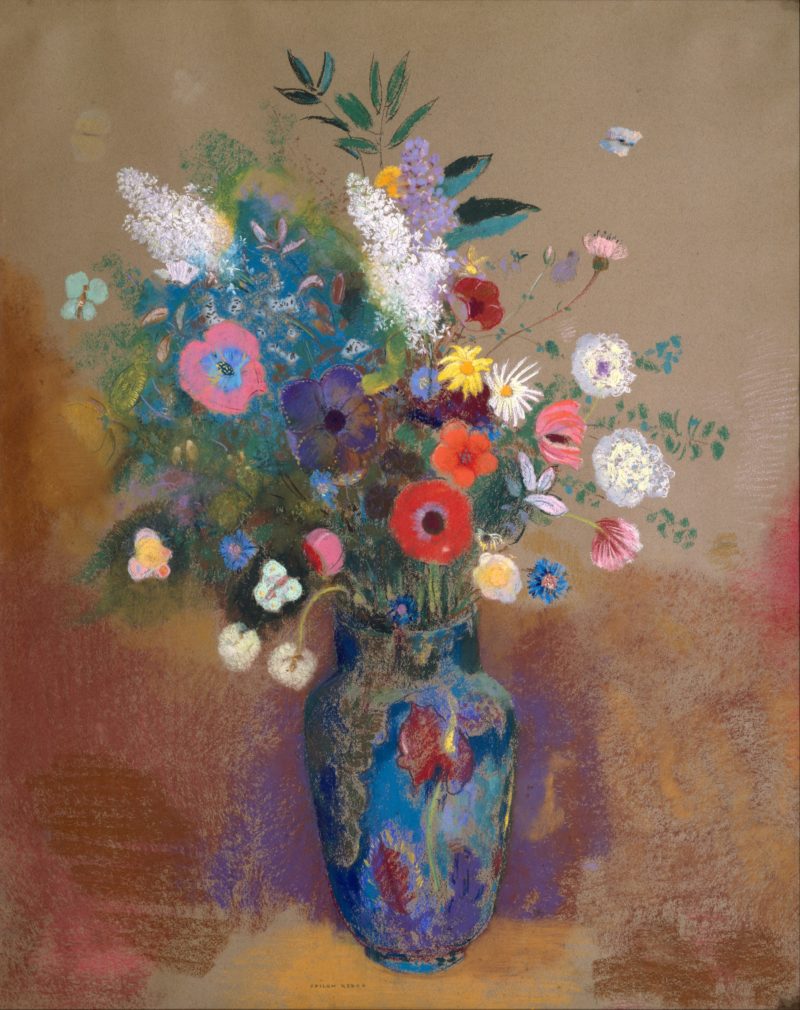 Dreams are the seeds of change. Nothing ever grows without a seed, and nothing ever changes without a dream.  – Debby Boone
This lovely still life of an overflowing vase had me wanting to make something with a floral bouquet too.   I didn't have anything particularly summery in my bead collection, but I did have these gorgeous faux tin components by Humblebeads.  They were appropriately termed "Autumn Bouquet".
Isn't that pendant amazing?!  It's one of my favorite pieces she's made.  And it's her own artwork too!  I made a bead soup of several different Czech bead strands, tiny green agate rounds, and brass spacers and strung the beads on wire.  I added chain as well to balance out the weight of the pendant.
I used matching charms for the earrings, along with tiny Czech leaves dangles and a bit of glass and brass spacers.   I can't wait to wear these during the autumn months!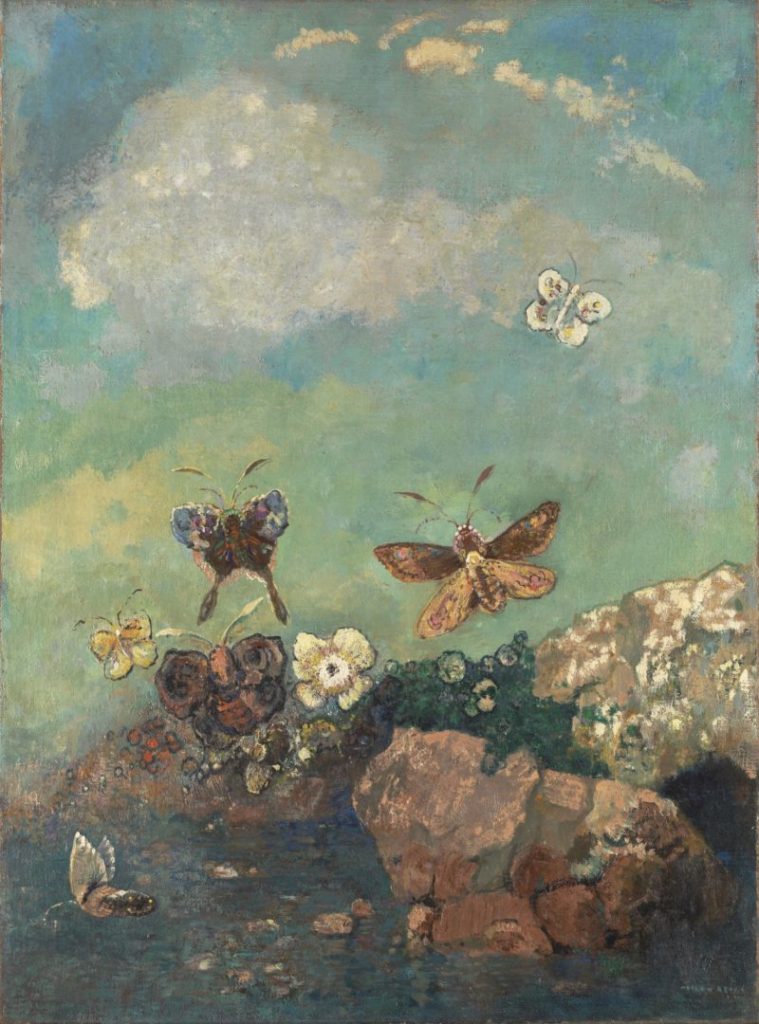 I dreamed I was a butterfly, flitting around in the sky; then I awoke. Now I wonder: Am I a man who dreamt of being a butterfly, or am I a butterfly dreaming that I am a man?  – Zhuangzi
I loved this butterfly pastel scene so much – it was my favorite of the set.  The sky and clouds are fabulous and it feels so dreamy.  I appreciate how Odilon has captured the emotion of a scene rather than the stark reality of it.  It is a masterpiece indeed.
I knew I had the perfect component for this piece, but I had to work up the courage to use it.  This beautiful lampwork butterfly wing is a treasure made by Kim Snider.  She sells most of her work by auction so it's a rare event to win one of these beauties.  The wing is capture in a bronze clay vine with tiny white flowers.  Quite frankly – there's no way to improve on this work of art and I was daunted about transforming it into a necklace.  To do so, I kept the materials simple – using tiny stones and Czech glass pressed ovals in delicate hues that mirrored the butterfly wing's coloring.
The earrings were made with enameled butterflies from Anne Gardanne fluttering in front of lengths of chain.  They are an elegant accompaniment to the necklace.
I hope you enjoyed exploring the dream world of Odilon Redon with me.  To close, here are some photo collages I made of my jewelry and his art.
Blessings to you,
Sarah