For our third installment of Art Journey, Art Bead Scene blog brought us the fabulous work of Jessie Fritsch.   She employs encaustic painting in her art – this is a technique where the artist paints with hot melted wax, mixing in pigments and layering them to create an image.  Here's a short video of Jessie and her process of using wax in her artwork.
Jessie loves to feature bees and blossoms in her art, which is perfectly apropos since she employees beeswax for her lovely images.  Here's a collection of her images that we were given to inspire our jewelry creations for this journey.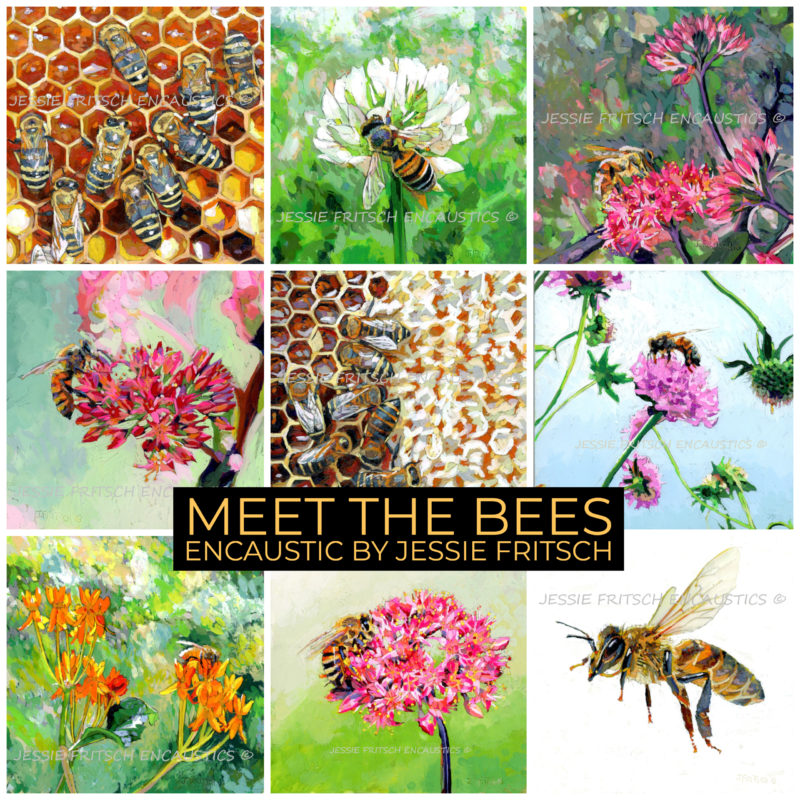 I really love Jessie's style and had a great time studying her pieces and gleaning inspiration from bees and blossoms.  As part of this journey, we learned some cool facts about our bee friends too.  I was blown away by this:  10 flowers yield one drop of nectar; 10 drops of nectar are needed to make one drop of honey.  And it takes 10 drops of honey to make one drop of beeswax.  So 1000 flowers are needed for that tiny drop of beeswax!!!
A single bee will only produce 1/12 a teaspoon of honey in her lifetime.  While I considered honey to be pretty commonplace before, after understanding how hard bees work for just a tiny amount of honey, I now view it as a treasure!!  I was excited to honor the hard work of bees in my creations and the vital role they play in pollinating our plants.  I had an extra-special way to begin the challenge too because I was the winner of our last Art Journey and received these wonderful gifts to use for this journey!!
One of the blog organizers, Erin Prins-Heinz created this lovely clay pansy focal bead with gilded gold edges and also included two hand-wired bees!  Aren't they wonderful?  And she also gifted me a selection of cards featuring Jessie's artwork.  I couldn't wait to get started!  And now I can't wait to share what I made with you.
First up is "Growing Things".  I had gotten a pendant from Grubbi Ceramics a while back with this quote:  "How lovely the silence of growing things".  It reminded me of sitting in a garden surrounded by the peaceful growth of green things and flowers.
For this necklace (and actually all the necklaces in this set) I went with a monochromatic color scheme.  I used coral semi-precious stones, glass beads of coral swirled with cream, and Czech glass flowers in coral and cream.  I finished off the necklace with brown leather lace.
Here are the matching earrings:  Czech glass flowers with delicate chain and tiny brass flowers.  I'm looking forward to wearing this springtime floral set during the rest of May.
From here I transition to bees:  I had a bee skep clay pendant from my favorite bead artist, Humblebeads.  It came in a bead pack – I love these because Heather packages up a bunch of her lovely beads in a theme and sells them for a discount.  I'd been waiting for a good project for this pendant and now I introduce "Bee Skep".
When I was at a bead and mineral show in April I was on the lookout for some yellow stones to use with the bees.  I found a lovely strand of citrine which I used in this necklace by wiring the citrine chips between hexagon rings.  It made for a delicate lightweight necklace that will be perfect for summer.
I had a bunch of hexagon rings leftover and had an idea of wiring them together to make a beehive pendant.  After some fiddling, this is what I came up with.  I call this one "Honeycomb"
After wiring together the rings to make the pendant I wired on a couple of bee charms from Vintaj.  I added a Humblebeads disc bead, quote bead from Grubbi ceramics, and a glass bead to the pendant and finished it off with some brass chain.  The quote says "You are capable of amazing things".  I like the quote with this necklace because it reminds me of all the amazing things that little honeybees do every day.
Now for earrings.  I knew as soon as I opened my prize package that the little wired bees would be perfect for earrings.  "Buzzing" earrings feature the little bees dangling from hexagon rings and a drop of citrine, looking like honey.
My last piece I'll share with you today is called "Pollen".  It's actually the first one I made and I think it's my favorite.  This necklace features the gorgeous clay pansy from the prize gift.
I had a collection of vintage glass beads that I purchased from a local bead store years ago before they went out of business.  They are among my favorite beads in my stash and I'd been waiting for something to make them sing.  This was a perfect match.  The beads are strung on wire with some small Czech glass honey beads mixed in.  I put a floral toggle clasp on the back to balance the design.  I'm so happy with how this piece came out!
I hope you've enjoyed a look at some fresh spring-inspired designs.  It's been a delight to watch the flowers emerge the past few weeks and to enjoy the buzzing of bees as they visit the blooms collecting pollen to make their precious nectar.  As a side note, the photos of the jewelry were taken on pages of the book The Lost Words.  This is a fabulous book that highlights beautiful words from nature that are being lost from our vocabulary as we spend less and less time in the natural world.  Filled with stunning illustrations and whimsical poems, this book is a magical feast for the senses and imagination and I highly recommend it!
Blessings to you,
Sarah