I hope you've all been having a good April.  Spring finally has come to my neck of the woods.  We're in my favorite phase of spring – in which the trees flower.  The magnolia trees are at their peak and the crabapples should be opening up any time soon.  Tiny leaves are starting to peak up from the soil and bare branches.  The earth is starting to fill with color again.  And speaking of color, here's our inspiration for April over at the Art Bead Scene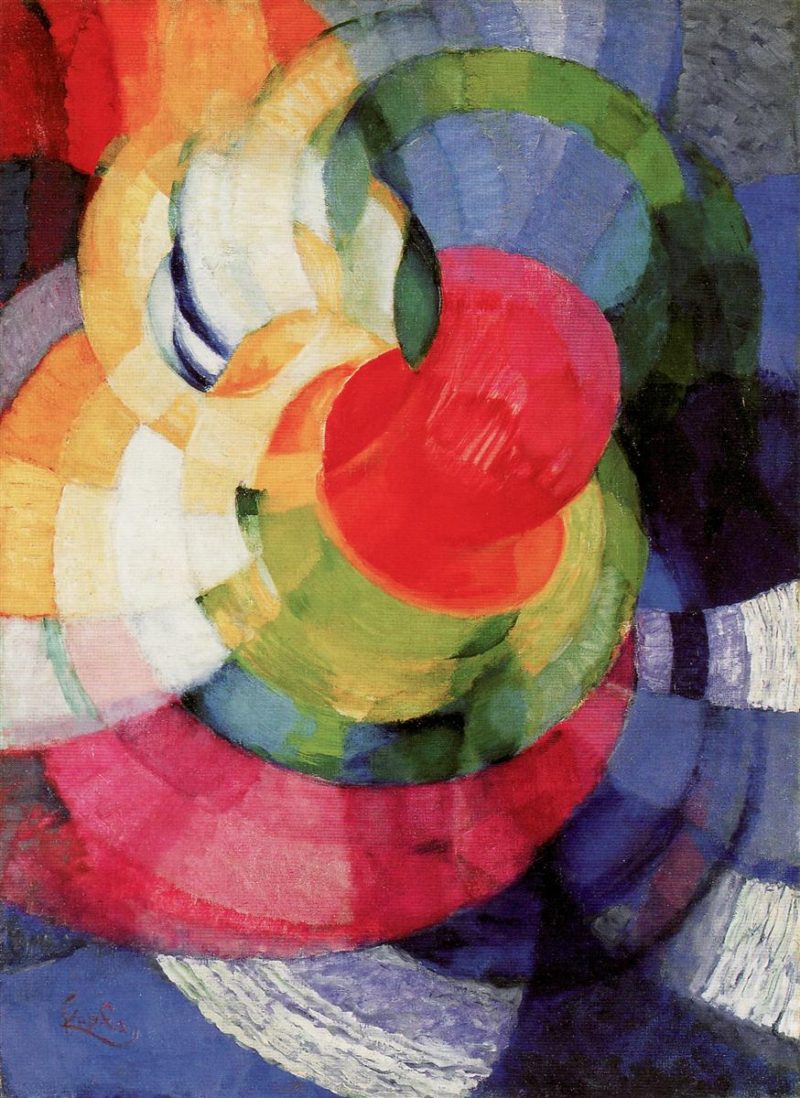 This is called "Disks of Newton" by Frantisek Kupka, 1912.  Kupka was an Czech abstract painter, and like most of his genre, spent his career enraging the critics and transforming the way we think of art.  I'll be honest, most of the time I fall into the critic's camp with respect to abstract art.  It's much easier to appreciate the skill and beauty of a realistic landscape than odd blobs of paint on canvas.  However, this artist did communicate a clear tribute to Newton in his work, and since I also admire Newton, it brought us to a common place.  Although the colors are too primary and bright for my taste, I did get mesmerized by all those concentric rings of color and how they stayed distinct yet somehow bled into each other.  I was also charmed by how the center of the painting looked like an apple – nice touch Kupka.
I had many different ideas my mind played with and discarded for this challenge.  I thought about making rings of colored beads and interlocking them, as a literal interpretation, then I thought about creating something ombre, or even going crazy and trying a Victorian steampunk design with a bright punch of color – layered hammered metal rings with an art bead in the center.  I might return to such ideas when I have more energy, but they were just more experimental than I could complete right now.  There are two types of artists – process oriented and product oriented.  Process artists create just for the joy of making something; it doesn't have to be pretty or useful at the end, it's just the experience of playing that makes art meaningful.  Product artists create with a defined goal in mind and value their artistic output more than the process.  I'm the latter and when I create, I want to maximize the chances I'll end up with something I'll like and wear.  So I decided to redirect my imaginings to what I love – and right now that's nature in her spring glory.  The way Kupka wielded color in his painting reminded me of light shifting through a forest coming alive with the promise of spring.  And so my jewelry reflects that lovely scene.
"Woodland Walk" pulls together my favorite color palette right now and is full of things I love.  A few months ago, I discovered a ceramic artist, Grubbi Beads, who makes exquisite pendants and beads.   I placed an order and one of the sets I purchased was this lovely deer pendant with some matching ceramic beads.  You may not be able to tell from this picture, but the deer is on her way to a spring festival in the heart of the woods, and is appropriately costumed in a lovely headdress of pink flowers.  No doubt she will enjoy many hours of music and dancing and have her fill of cake.  She forms the focal point of the necklace along with coordinating ceramic beads and polymer clay floral bead by Humblebeads.  Copper ferns frame her path into the woods, and overhead the trees cascade into delicate pink flowers and new green leaves.
"Spring in the Woods" earrings pull together elements from the necklace, with a profusion of pink blossoms.  I used more Czech glass leaves and tiny pink rounds, paired with polymer clay beads from Humblebeads and floral etched glass beads.  I decided to add some extra flair and made the earwires myself.
I'm very pleased with the set and the way it captures the jubilant promise of spring.  I think it's perfectly suited to any forest fairy eager to celebrate the rebirth of life and love in the woods.  And now I must wander the paths of wildflowers.
Blessings to you,
Sarah