Well we've made it to Sept 1st.  At this point, I consider it officially fall.  I'm ready to be surrounded by pumpkins and fall leaves, cuddled in sweaters and knitted shawls, and ready for long crisp walks in the woods.  Ideally it should stay Autumn from now till mid-January (that's about the time that I'll concede fall is over).  Have I mentioned that I love fall?  I heralded it in last night with the first official viewing of "Great Pumpkin Charlie Brown"  Yesterday and today I've been busy searching for leaves with traces of fall colors in them.  And yes, I have found some.  But before we leave summer for the glories of fall, I wanted to share what I'd been making for the Art Bead Scene.
The folks at Art Bead Scene gave us a happy surprise when they announced that we'd extend the July challenge through August (they needed a break too).  I had already made my jewelry for July, but since I enjoyed the artwork I decided to have another go during August.  For our inspiration we had this awesome illustration by Ernst Haeckel entitled "Art Forms in Nature, Plate 85, Ascidiae.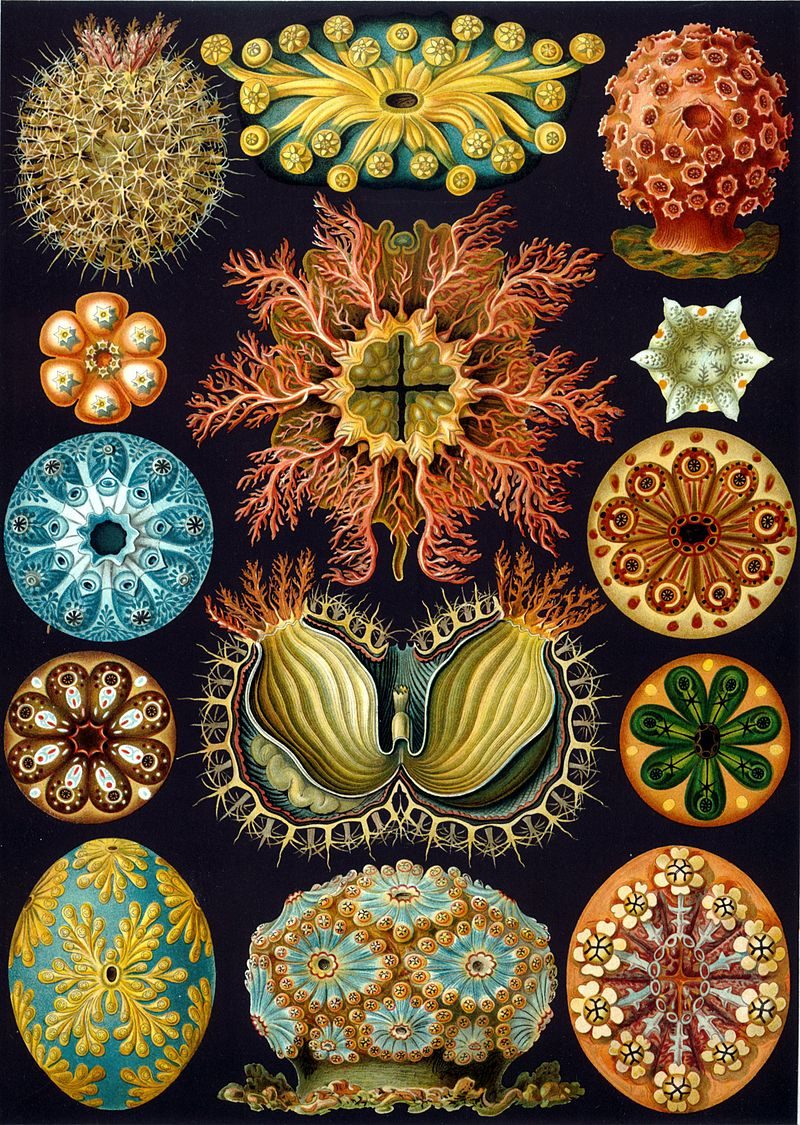 During his lifetime, this natural historian created over 100 published illustrations of animals and sea creatures.  This one is just stunning.  Ascidiae are a class of marine invertebrate filter feeders, more commonly known by the charming name "sea squirts".  They are found all over the world and (as beautifully illustrated) are incredibly diverse, not only in anatomy but also in behavior – they range from solitary to community species.  Larvae are free-swimming but then they settle on a happy home and secrete adhesives to make their choice permanent and they metamorphose into adult physiology, like the type depicted in the central illustrations.  As a biologist, I find that they can reproduce sexually and asexually pretty fascinating.  They play important roles in the marine environment by filtering out toxins from the water, and thus serve as indicator species of the ecosystem's health.  And they are an important food source for a multitude of other species.  I find these creatures fascinating and this illustration an incredible source of inspiration.  The colors, textures, shapes, and patterns are exquisite.
In July, I worked on my first interpretation of this artwork.
I don't have very many art beads that are as ornate as these little creatures, but I had ordered these polymer discs a while back from SummerWind.  I had originally planned for a Moroccan theme with these, but after I saw the inspiration for July/Aug, I thought the complex patterns mimicked the sea squirt illustrations.  I wanted a simple, casual necklace – something suited to wading on the beach and exploring tidepools.  The three charms are linked together with Dumortierite bead and tiny spacers.  Instead of using chain, I braided a length of brown cotton cording for the body of the necklace.  Lucet braiding was a technique I learned last fall on a retreat with Heather Powers of Humblebeads Studio.  It's a relaxing technique that utilizes a two-pronged fork.  The hardest part is stopping to check when you've got a long enough braid – I went at least two inches over because I was just enjoying it so much.
Earrings use some smaller matching charms, with the stone rounds and spacers.  This set is a bit plain and casual from what I usually do (note the absence of a bird or leaf) but it did feel beachy and summery.
When the  challenge was extended through August, I decided to take another go at this illustration.  This is quite a useful way to encourage creativity – to create multiple pieces from the same source of inspiration.  By this time, I had ordered a couple of ceramic beads by the artist Golem Beads and that served as my starting off point for this necklace.
You can see I'm back into familiar territory here – note the presence of both a bird and a leaf.  A few weeks earlier Humblebeads had posted a Bead Table Wednesday project using a selection of art beads and I ordered a kit.  One evening I needed something soothing to do and put it together.  I liked the design so much that I wanted to create something similar with what I had on hand in soft aqua tones.  A Humblebeads bird is paired with a lovely Golem bead.  It's pattern is reminiscent of that on the Ascidiae illustration.  I dangled an aqua-enameled leave from Gardanne Enamels and tiny bird nest charm from Green Girl Studios to create the pendant.  Natural jade beads in lovely tones of brown, green, and aqua draw the eye up the necklace and it is finished off with a length of wrapped leather lace.  I love it!
Earrings were made with tiny matching enameled leaves and jade beads.  I added a tiny silver spacer to a jump ring as a bit of interest and glimmer.  Though not particularly beach-feeling, I do really like the way this set came out.
So here are the two sets along with the inspiration.  Thanks for joining me through a two-month jewelry journey.  Tune in later in the month to see what's in store for September!
Blessings to you,
Sarah